Urban Armor Gear Get's it Right for the iPhone 7 and 7 Plus.
Choosing a case for your iPhone these days, has become slightly overwhelming. So, I've thought to provide a picture-perfect, UAG iPhone 7 Case review. Hopefully this writeup helps you to narrow down a decision on a case for the iPhone 7.
I'm already quite familiar with the Urban Armor Brand and their previous iPhone case lineups. So, when I picked up the UAG iPhone 7 Case, I knew what to expect.
They've again, churned out another top-notch, reliable and killer-design. Just like they've accomplished for the previous generation iPhones.
Incase you missed it or are still hanging on to an iPhone 6/6s/6 Plus, be sure to check out my Urban Armor Case iPhone 6 Review.
P.S. I will let you in on a little, well known secret. The new UAG iPhone 7 and 7 Plus Cases are compatible with the iPhone 6/6s and 6/6s Plus. Be careful though, as it doesn't work the other way around. If your not yet ready to upgrade, you can pickup the new UAG iPhone case and it will work with your current iPhone 6/6s or 6/6s Plus!
The UAG iPhone 7 Case, is Brilliant and Looks Great Too!
For those of you that are visiting for the first time here, don't worry, you'll at a minimum, leave better equipped to confidently decide on a case for yourself.
First point that comes to mind, is that UAG cases are very competitively priced, comparatively speaking. So, after slipping the case onto your phone, you feel as if every dollar spent was well worth the investment.
The build quality on these cases are superior to any other case on the market, with a few close seconds. It grips your smartphone perfectly, or as I typically describe it, a "high-precision" fit. The volume and power buttons are perfectly designed. They just "work" and don't exhaust your fingers like other cases that I've found, tend to do.
They also look, really, really good on your phone. The precision design and fit lends additional appeal to your iPhone 7's aesthetics in subtle ways. Case designs from other brands, just don't seem to pull that off like UAG. One small change with their iPhone 7 case over last years, is that the camera opening is larger. Specifically to provide room for the iPhone 7's larger lens.
With UAG, You're Fully Protected from the Nastiest of Spills.
Yes, it's been tested. Want proof? Just look at this insane high-speed demonstration that UAG's been crazy enough to entertain us with.
Now That You're a Believer…
You can get yours right away. Choose from 16 color or design choices directly from Amazon. If you're still not fully convinced, I'll continue filling you in on the rest of the details.
The UAG cases give your screen a few millimeters of "lift" to prevent it from ever coming into contact with rough or screen-lethal surfaces. While the glass in most smartphones are getting better every year, they aren't fool-proof, yet. However, you can rest easy, if you're sporting a UAG case. They easily provide some of the best protection available.
I'm not opposed to screen-protectors, but with the latest technology advancements, it's arguably becoming less of a concern. Especially when you consider the strength of the modern-day Gorilla Glass screen (found in most smartphones,) coupled with a UAG Case.
It's all in the Corners. Protect Them!
Every corner of a UAG case is designed with a certain thickness in mind, intended to provide additional drop protection. Effectively, cushioning your phone from nastier falls.
Corners are usually the first area on a phone to come into contact with an enemy surface during a drop. Needless to say, this is a huge win with any UAG case. They don't get in your way when gripping the phone and they are small enough to not hinder traveling in-and-out of tight pockets.
I'll Repeat, UAG Has 16 Flavors to Choose From.
This year, UAG has turned the heat up a notch with the release of a few additional design and color choices. While they all provide, at the very least – equal amount of protection, slight differences exist between the models.
The color choices are plentiful and if I am not mistaken, this is their largest variety EVER for the iPhone.
All together there are 5 different models in the series:
Monarch, Trooper, Pathfinder, Plasma and Metropolis.
Urban Armor Gear Monarch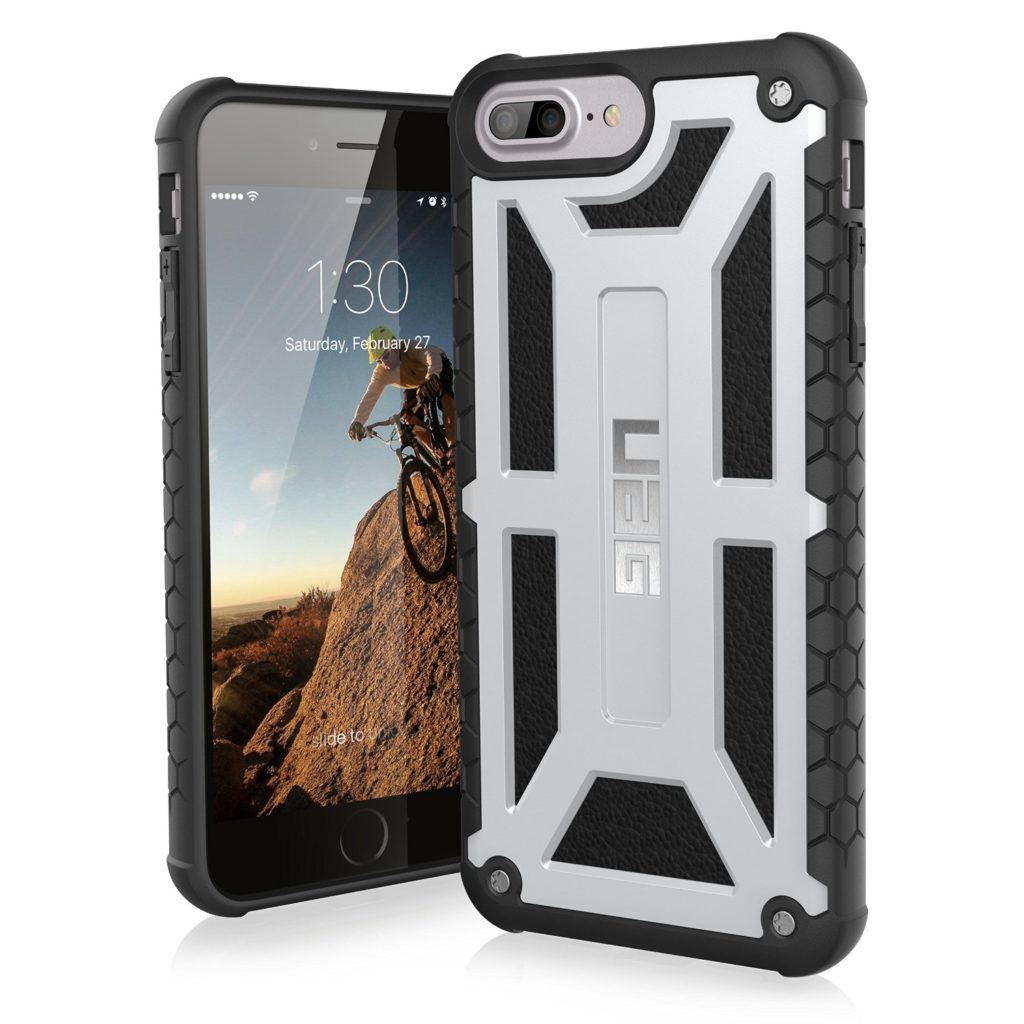 The Monarch design is a first, over any other years release. It uniquely includes what's described as "2X Drop-Protection" compared to the other choices in the series. Also packing a classier finish with "hand-crafted" leather, placed onto the back side of the cases design. The Monarch series even goes a bit extreme with a 10-year warranty!
Two Color Choices are Available: Platinum and Graphite.
Buy now for the iPhone 7 from Amazon
Buy now for the iPhone 7 Plus from Amazon.
Urban Armor Gear Trooper, for Storage & Protection
The most notable feature of the Trooper is it's ability to store up to 4 credit cards, gift cards or ID's. For many, this might be a great way to go without a wallet. If you find that your the type to leave your wallet behind, this is just what you need. I really hate losing a wallet, it's such a pain to cancel and re-order everything!
We all know, that we are more likely to keep up with our phones than our own wallets. The Trooper case clearly solves the dilemma, right? Or should we agree to disagree?
Three Color Choices are Available: Black, White and Rust.
Buy now for the iPhone 7 from Amazon
Buy now for the iPhone 7 Plus from Amazon.
Urban Armor Gear Pathfinder
My recommend choice, for UAG first-timers. You'll likely find the Pathfinder to be the most common decision among UAG case owners. It could also be described as their "Original" design, boasting all of the great features a UAG case is known for.
The Pathfinder, much like the previous two choices within the series, come in a matte finish. If you like a little gloss in a case, look to the next choice mentioned here.
Three Color Choices are Available: Black, White and Rust.
Buy now for the iPhone 7 from Amazon
Buy now for the iPhone 7 Plus from Amazon.
Urban Armor Gear Plasma
The Plasma Series is nearly identical to the Pathfinder, with "texture" being the only differentiator. The case has more of a gloss-type finish than a matte. I would describe it as a having a little less "grip," than the Pathfinder.
The upside, is that it comes in a few additional color choices and is semi-translucent. Your iPhone's natural color will show through the case too!
5 Color Choices are Available: Ice, Ash, Magma, Cobalt & Citron.
Buy now for the iPhone 7 from Amazon
Buy now for the iPhone 7 Plus from Amazon.
Urban Armor Gear Metropolis – 360 Degree Protection
The Metropolis adds an extra layer of protection, in the form of a flip-cover. The cover which is attached to the case, flaps over and onto the phones screen. Making it feel a bit more like a wallet, than a phone case – which is a nice feature.
The flap (or screen-protector) includes a credit card holder as well! You get the full package from UAG in the Metropolis series.
3 Color Choices are Available: Black, Magma & Cobalt.
Buy now for the iPhone 7 from Amazon
Buy now for the iPhone 7 Plus from Amazon.
I hope you've enjoyed my UAG iPhone 7 Case Review! If you have any questions or comments, please feel free to share! It's always great to hear from my readers! If you found this writeup helpful, be sure to share it with someone you know!